Duration : Approx. 9.5 hours
Daily Morning Departure
Hotel pick-up time : Approx. 7:50am-8:40am
Price : Adult HK$480 , Child (3-11 years old) HK$320
(Actual time will be given at the time of reservation)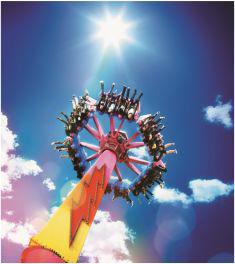 A full day of fun for the entire family! Our ambassador will first escort you to the landmark of the south side of Hong Kong Island - Ocean Park, where you may enjoy the many different rides exhibits of sea lions dolphins and of course, giant pandas. After a full day of fun, our ambassador will once again arrange return transportation and safely escort you back to the hotel.

Polar Adventure
Take the Arctic Blast to Ocean Park's latest chill zone, the Polar Adventure! Learn about life at the North and South Poles from its animals. Inside the penguin habitat of South Pole Spectacular, get up close with these magnificent birds! Meet up with pacific walruses, spotted seals, northern sea lions and snoy owls at North Polar Encounter!

Thrill Mountain
The new high energy zone at Ocean Park. Race down the track of "Hair Raiser", the latest and fastest roller caster. Soar to the skies with the "Whirly Bird" ir zip through traffic with the "Bumper Blaster"! Whirl around on the "Rev Booster" or ex-perience being swung upside down on the arm of "The Flash"!

Adventure in Australia
Catch a glimpse of the Great Australian Outback where you can meet some of South Australia's most famous animals. Watch the furry koalas perching on branches and red-necked wallabies springing about, don't miss a sweet serenade by laughing kookaburras!

Rainforest
Take a plunge down the Rapids at Rainforest. Enjoy a raft journey and battle fierce river rapids to meet some of the Amazon's most fascinating animals, including Pygmy Marmoset, Capybara, and other wildlife.

Shark Mystique
Come to the all-new Shark Mystique exhibit at Ocean Park to unmask the mystery of sharks, uncover the many misconceptions we have about them, and realize their vital importance to the oceans! Start your journey at a sustainable coastal village before venturing deep into the waters to meet over a hundred sharks and rays of different species!
Tour price include hotel pick-up with meet and greet ambassador, guided service, air-conditioned coach transfer and Ocean Park admission ticket with information provided.
Note:
- Ocean Park daytime admission ticket is good for all available games on the day, shows and rides.
- The itinerary includes a visit to TSL jewellery factory, the receiptian of the Outstanding QTS Merchant awards for more than 10 years and counting.
OCEAN PARK TOUR (Round trip transfer)

Adult

Child ( 3 - 11 yrs)

HK$480

HK$320
Remarks:
- Child age between 3-11 should bring along their passports or identity cards which may be requested at the time of admission.
- The above rates, terms and conditions are subject to change without prior notice.
- To reserve tour, please call 2723 2306.