Duration: Approx. 5 hours (not include hotel pick up time)
Daily Departure
Hotel pick-up time : Approx. 7:50am – 8:40am or 12:50pm – 1:40pm
Price : HK$560 for 2 adults (Buy one get one free)
(Actual time will be given at the time of reservation)
This classic tour includes riding the Peak Tram to visit Victoria Peak, follow by entering Sky Terrace 428 – the highest viewing platform in Hong Kong. Afterwards, tour will visit Aberdeen Fishing Village (old Hong Kong) and you may choose to ride the sampan (own expense). A visit to great bargain place Stanley Market is included and last but not least, you will ride the Rickshaw style Open Top Bus to explore many Heritage sites of Hong Kong.

PEAK TRAM – EXCLUSIVELY ARRANGED FOR YOU!
Operated for over 125 years, there's nothing in the world like riding the 373 meters long Peak Tram to visit the Victoria Peak. Many skyscrapers buildings you passed by look like they leaning at a 45° angle!

THE SKY TERRACE 428
Standing at 428 metres above sea level, it is the highest viewing platform in Hong Kong. The new "Hong Kong Sky Tour" audio guide will help you to explore HK's architecture, cuisine, neighbourhoods, culture and history while enjoying the 360-degree panoramic view of Hong Kong.

ABERDEEN FISHING VILLAGE
Aberdeen Typhoon Shelter is an old traditional fishing village which is hard to find in any other parts of the World. You may gain a deeper insight of the lifestyle of Hong Kong fishing folks by riding on a sampan (at your own expenses).

STANLEY MARKET
Stanley market is a Shoppers' Paradise where you can find a wide variety of souvenirs such as silk, garments, sportswear, Chinese artwork and accessories.

RICKSHAW OPEN-TOP BUS
Specially decorated in a rickshaw livery, you can explore many heritage sites of Hong Kong with a 540-degree panoramic view on this double decker.

TSE SUI LUEN JEWELLERY CO LTD
TSL is one of the few merchants that are the receiptian of the Outstanding QTS Merchant Award for more than 10 years and counting. Known for offering a wide range of products from quality cut diamonds to outstanding original design handcrafted jewellery, a visit to the TSL factory will give you an exclusive first-hand experience on its state of art jewellery facility.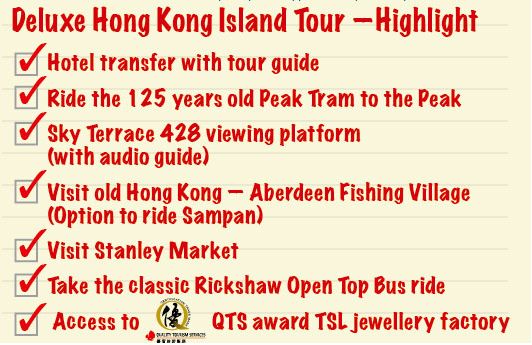 Tour itineraries include:
- Victoria Peak
- Peak Tram
- Aberdeen Fishing Village
- Stanley Market
- The Sky Terrace 428
- Factory visit at TSL jewellery workshop
- Rickshaw Open-Top Bus
Tour price include air-conditioned sightseeing coach, guided service, tram ticket to the Victoria Peak and admission to Sky Terrace and Rickshaw Open-top Bus ticket.
Price (without lunch)
Deluxe Hong Kong Island (AM/PM)
Adult
HK$560 for 2 adults

(Buy one get one free)
Remarks:
- The above rates, terms and conditions are subject to change without prior notice.
- To reserve tour, please call 2723 2306.